Halki is an exclusive luxury development of 9 energy efficient villas located in the hills above the lively resort town of Protaras. The contemporary design of the homes has been inspired by their natural surroundings. Using wood, stone, and fairfaced concrete elements they create a modern and natural aesthetic, blending with the surrounding environment, using the finest standard of materials.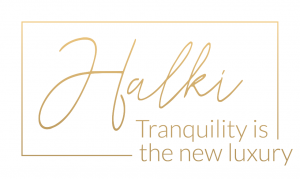 Units: 14
Type: Luxury Villas
Bedrooms: 3, 4, & 5
Buildable Area: 190 m2 to 197 m²
Plot Size: 474 m² to 618 m²
Pool: Private
Energy Rating: A
Status: Off-Plan & Ready Unit(s)
Luxury Seaview Villas
Modern, spacious interior
Designed for the natural environment
Highest quality of materials
Expansive garden and outdoor living area
Surrounded by protected Green Area
Optional basement upgrade
Imported granite counter tops and work surfaces
Private covered parking
Only 4 km to high caliber English language school
Set neighbouring a green nature preserve in Protaras, Cyprus, the villas are within walking distance to the award-winning Fig Tree Bay Beach, Loumbardi Beach, and Protaras High Street. The area is known for its numerous beaches and coves, as well as its striking natural beauty. Amenities, shopping, and schools are all only a few minutes away.
Halki is surrounded by beautiful beaches with crystal clear water. More than 50 beaches dot the coastline of East Cyprus, most within walking distance and none more than a short drive.
Pictured is internationally acclaimed Fig Tree Bay beach is only a few minutes from Halki, and known for clear, turquoise water, calm year-round. Lounge, swim, snorkel and scuba in this beautiful natural area!
Priding ourselves on quality construction and lasting design, each KARMA project is thoroughly planned and researched prior to ground breaking.
For property purchased off-plan or under construction, our aftersales team will provide regular updates so that you can watch your property grow before your eyes.
We are always ready to provide information and support via photos or small videos if you are not able to visit Cyprus or the construction site in person.
Expected Delivery:
Off Plan & Ready Unit(s)
The minimalist architectural style of the villas has been deliberately crafted to respect the surrounding environment, each villa carefully oriented with sun, sea and wind currents to create the perfect living conditions for human comfort. Internal spaces are organized with prominent linear dividers that run through the villa, perpendicular to the sea, separating the plot from the street. These dividers create a sense of open space, making the most of the sea views, visually making the plots more spacious.
A cleverly designed open plan kitchen, dining area, and living room provide extra comfort and space. your private garden with a vanishing swimming pool & barbecue area provide a unique outdoor living experience. On your roof garden you can enjoy stunning panoramic sea views. Carefully arranged within an area of abundant natural beauty, these terraced villas are aptly named for the picture-perfect island, Halki, smallest of the Greek Dodecanese island.

Impeccable interior planning maximises the space and light of each residence, complemented by the highest-spec details for a contemporary vibe of minimalist luxury. Tailored to the discerning buyer's tastes, owners can add their signature to their home with a choice of fixtures, furnishings and finishes.